Hoarding competition
Burnt Oak wins Berkley Homes hoarding design competition
Theme: Glorious Britain
Here's how it happened:
The painting soon got underway using bold colours. The brushes were regularly washed to ensure careful execution of the imaginative artwork.
The children had a wonderful experience painting the hoarding.
The children were really engaged in the painting which was carried out diligently all afternoon.
Burnt Oak Primary School's finished artwork shows glorious landmarks dotted along the River Medway and River Thames which flows through the centre of the design to celebrate Britain. It is imaginative, colourful and vibrant. We were all thrilled with the result.
Burnt Oak can rightly be proud of this magnificent painting and the outstanding result the children achieved. Berkeley Homes were delighted with the hoarding which will adorn the newly enhanced Gillingham Pier area.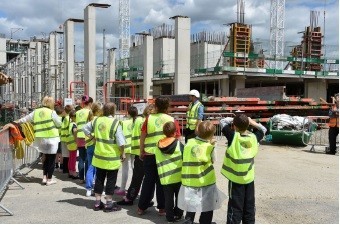 The children also had the opportunity to visit the construction site. They learnt about building a tall buildings using cranes and a concrete structural framework.