BAFTA Kids Roadshow with Place2Be
BAFTA AND PLACE2BE ROADSHOW VISTED BURNT OAK PRIMARY SCHOOL.
CBBC presenters Katie Thistleton and Ben Shires joined Wolfblood actor Louis Payne at Burnt Oak Primary School on 31 October.
'BAFTA Kids Roadshow with Place2Be' taught life skills and champion creativity.
The event was hosted by CBBC presenters Katie Thistleton (CBBC HQ, CBBC Book Club) and Ben Shires (Officially Amazing, MOTD Kickabout), who presented a 'Behind The Scenes' assembly featuring BAFTA-nominated and award-winning TV, film and games, and a TV presenting masterclass for Key Stage 2 students. Actor Louis Payne, best-known for starring in CBBC's Wolfblood, appeared as a special guest.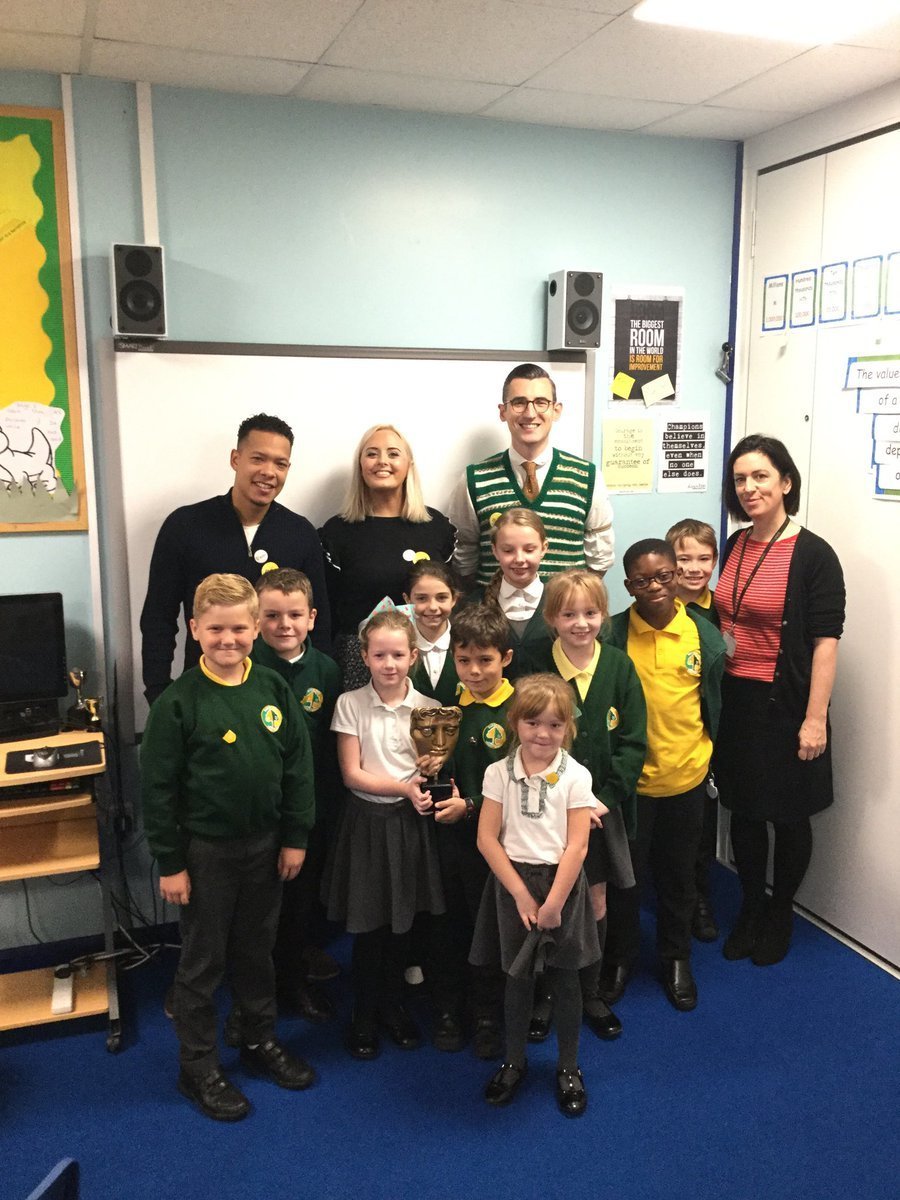 Our school council interviewed our guests and Year 3, 5 and 6 were lucky enough to have a meet and greet with the stars.
Speaking about the roadshows Katie Thistleton said: "It's fantastic to be working with BAFTA and Place2Be, sharing my experiences of working in television with the students at Burnt Oak Primary School and helping them explore their talents and build their confidence. Alongside sharing brilliant kids' content directly with the audience and letting them hold the big shiny BAFTA mask, we also get the opportunity to build their confidence and develop their dreams and aspirations."
Ben Shires describes the events as "an absolute joy" and continued: "The TV presenting master class has evolved into a series of fun, confidence-building exercises that seem to strike a chord with almost every child, even those usually deemed shy, disruptive or challenging. There's no greater feeling of accomplishment than being told the child who's just spoken so eloquently in front of their whole class has never done anything like that before."
Place2Be has worked in Medway since 2004 and currently works across five schools, offering support to over 2,500 children. Place2Be also offers support and counselling to parents and carers and offers advice and training for teachers and school staff